Tips for Moving Your Business From LA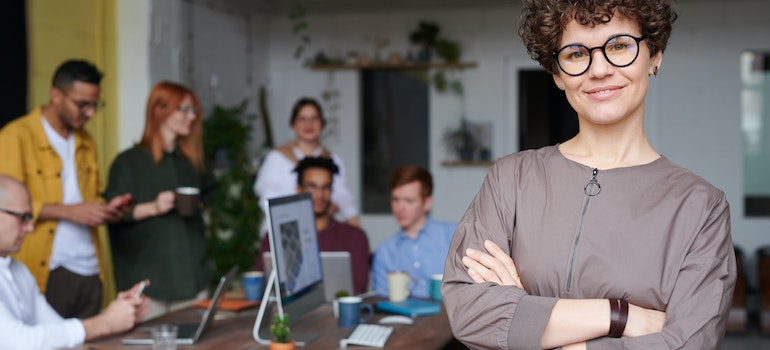 You can consider business moving or commercial moving as a big challenge. First of all,
you, as the owner of your company, office, or entrepreneurship, have a great responsibility for commercial moving
. What is expected of you is impeccable organizational skills, leadership, and a good distribution of work. And also, at the same time, you have to take care of your employees, business, and customers. But don't worry, because our
movers and storage CA
company are at your disposal. We can take care of facilitating the entire process of moving your business premises. But not only that.
Today we will reveal to you a simple guide for moving your business from LA
. All you have to do is stay here, and catch as many tips and tricks as possible.
Prepare your business and your employees for new changes
We said that
moving your business to LA is a big challenge
, first of all for you as the boss, your business, and also your employees. In addition to the fact that your decision to move is a big challenge for everyone, it also represents a big change. This change will significantly affect you, your business, and your employees. Of course, positively. You will get a new office space, opportunities for business expansion, more jobs, more customers, etc. All this depends on the activity you are engaged in. But what is really important is that you, as well as your employees and your business, be ready for this big step forward! So, in order to be prepared for the new situation, you should primarily understand this process as a big project. Because commercial moving is an average that requires a lot of attention, planning, organization, and money. Just like any project, right? So, for this reason,
there are several things that you must do right from the start
:
Choose the right time for moving your business
Notify customers and clients
Find reliable commercial movers California
Familiarize employees with the changes and let them decide whether they are with you or not
Look at the situation and start planning
Determine the budget
Explore locations and find the perfect place
In the list above you could see several tasks that you should do right from the start. Make sure you complete them within the time limit. At least one month before the move.
When is the right time to take a big step and move your business from LA?
When it comes to the ideal time for moving your business from LA, there are a few things you need to consider before making your final decision. Every commercial move brings with it many challenges and a lot of work that needs to be done. For this reason, you should be careful when choosing the ideal time for your move. The first factor that can influence your decision-making is the type of work you do. This means that if you are engaged in any of the tourist activities,
you should choose a period outside the business season
so that your move does not affect your work. Also, in addition, weather conditions can be one of the major factors that can influence the selection of the right moment for the selection of your business premises. Let's say, during the summer months, the moving season is in full swing, and if you don't book
cross country moving companies Los Angeles
on time, you will have a hard time finding a free appointment. Fall and winter months can be a great choice if your state doesn't have much rainfall. Let's say, in LA the climate is hot and without precipitation all year round. But there can always be a seasonal change in precipitation, which is characterized by dry summers and a rainy winter season. So, the conclusion is that you
choose the beginning or the end of the summer season
. Of course, if it doesn't affect your work. Also, in addition to the climate and the season of work, finances, annual vacations of employees, important meetings, etc. are also factors that can influence the selection of dates for moving.
Make a budget for moving your business from LA
The amount of money you can set aside for moving your business, renting business space, and a salary bonus for your employees is one of the leading parameters when it comes to moving your business.
So, one of the most useful tips we can give you now is detailed planning of your budget. When it comes to business relocation, you have your company's money at your disposal. And in such moments, you must monitor the movement of your money so that you can justify every withdrawal from the account. You can do budget planning by taking into account all the costs that await you in this process of moving your business. The best solution is to keep records of expenses on your computer or tablet. And also, you can assign one of your employees, who deals with finances, to this task. Also, moving costs can depend on the distance to which you are moving your business. Let's say the distance from Los Angeles to San Diego is about 332 miles, which is a long-distance move. Then
Las Vegas to San Diego movers
can help you plan your move, but also inform you about all the costs that will be expected. What you need to do is to
make
your budget before you start packing
! Also, when we talk about San Diego, it's important to mention that this city is an ideal place for moving business. The unemployment rate is only 7% compared to previous years when it was 16%. Also
, the economy is in full growth
, offering support to new companies. And the pharmaceutical industry is one of the most developed.
Find the ideal moving company for your business moving
Whenever you decide to move, regardless of whether it's moving your home, or moving your business from LA, the help of a professional moving company is always welcome. And it will be of great use to you. The moving company exists to provide you with assistance during the move. In fact,
long distance moving companies California
will provide you with reliable, reliable, and quality complete moving services with the help of which you will have a smooth move of your business. Also,
the process of your move will be supervised by professional and experienced movers
who will do their best to meet all your expectations. In order to find the ideal moving company, it's enough to
do a simple search on the Interne
t. Search for companies in your city/state. Also, you can rely on the recommendations of friends and moving reviews. But it's very important to
be careful because you can come across moving scams
. When you choose at least three companies, you can request a free moving quote from each of them, based on which you will receive more information about your move, including the price. Also, based on that, you can see if the company meets all the requirements of your business moving.
Tips for planning and organizing
We said that you should experience commercial moving as a type of project. And every big project requires a lot of organization, planning, and invested time. In such situations, you must pay close attention to the planning and organization of your move. For example, if you plan to move your business to Phoneix from LA, or vice versa,
you need to organize a meeting with your employees that you will dedicate to the organization of the move
. Also,
Phoenix to Los Angeles movers
should be part of the meetings.  Also, Phoenix is ​​a city that has a very healthy economy and high business and living standards. When we talk about industries, aviation, agriculture, electronics, and the tourism industry are represented here. And also, Phoenix is ​​a welcoming place for new businesses. Here are some
tips for organizing your business moving from LA
:
Make a to-do list so you don't forget to do something.
Distribute responsibilities to your employees and make it easy for yourself.
Don't move everything, but sort the office furniture and appliances.
Make several backup copies of your data and documentation.
Designate employees who will take care of the office equipment.
Prepare all office inventory for the arrival of the furniture movers California and save time. (cleaning and preparation for packing).
Make an inventory list for the safety of your belongings.
These tips can be your reminder of what you need to do during your business move. Another tip is to distribute all responsibilities to your employees. And your
responsibility is to control the entire flow of your move.
Useful tips for packing office inventory
Although you will have the assistance of professional movers next to you at this moment, it will be useful if you learn a few useful tips for packing office inventory. First of all, you must know that the
packing process isn't a fun job at all
. It can already be tiring, and require a lot of effort from you. And it will also take a lot of time. If you have a large company and have a lot of office furniture and equipment, you can also get involved in this process, and these tips will be of help to you.
Sort things before packing
If possible, use the original packaging
Get durable and high-quality packaging
Wrap all items in bubble wrap
Donate or give away things you no longer need
Use stickers to label what's in the boxes
Use Fragile stickers
Make sure everything on your list is packed
Does this sound like a lot of work?
But don't worry, if you are moving your business to Seattle,
Los Angeles to Seattle movers
will make this move much more enjoyable. Also, Seattle is one of the cities that has a healthy economy and a very well-developed labor market. What is characteristic of Seattle and business is that
Seattle is home to software and web developers
. If your business is connected with modern technology, moving businesses to Seattle is the right step!
Start your business moving from LA on time!
We have explained how to determine the ideal time for your move. But we didn't tell you why it's important to start preparing for business moving on time. So, when is it time to start? Given that commercial moving is one of the more demanding types of moving and that in this case, you need more time than when it comes to senior or residential moving. That is why the ideal period to start preparing for a business move from LA is 6 months in advance. After you have chosen the place where you moving your business from LA, you can start with planning and organization. We have said so far that San Diego, Phoneix, and Seattle are some of the
USA cities with strong economy
, it's important to mention Portland as well. Population growth in 2021 has been recorded in Poland, which means that it's easy to find qualified workers. When we talk about business and the economy, we can say that
Portland is a great place to move or start a new business
. Also,
Portland is a national leader in manufacturing. And manufacturing in Portland includes high-tech electronics manufacturing and metal manufacturing.
What is characteristic is that business moves also take place between these 4 mentioned cities. So if you decide on something other than moving your business from LA, for example from San Diego to Portland, you can contact
San Diego to Portland movers
.
The ideal time to hire movers is 3 months before your final moving day
. That way, you will have plenty of time for preparation and organization.