Apartment Hunting in LA 101
It can be tough when you first start looking for a suitable apartment since there are many things to consider. These factors that can affect your apartment hunting in LA can make a big difference in the quality of your life in the following period. You need to check if you qualify for affordable housing, decide if you want a roommate or not, settle on a location – the list goes on. But if you
consider some of the useful tips
we prepared for you, it can get a lot easier. A pro approach to your search will make your apartment hunt as easy as it gets. After you know what are you looking for, all that's left is to contact the
apartment movers in Los Angeles
that will help you move. Take a look at our article and see what we prepared for you. Let's dig in.
What should you watch out for when you are apartment hunting in LA?
The main things to watch out for when you're apartment hunting are
the location and the features your future apartment is going to have
. The location is important since it has a major influence on your everyday life. As for the features your apartment is going to have, they are vital to your lifestyle. Some of these features include the type of apartment and the size of the living space. Although, depending on what are you looking for, there might be many more. Now, without further ado, let's see how you can settle on a new place before
movers California
start packing your things up.
Choosing the location
This might be the most important part when it comes to apartment hunting in LA. Luckily for you, there is plenty of choices.
The location of your apartment should be your top priority.
Los Angeles is a wide metropolis, and narrowing down your search region might be difficult. So, when you begin to look at properties,
spend some time exploring the different parts of the city
. Each neighborhood, from Malibu and Hollywood to Silver Lake and Studio City, has its own distinct atmosphere. So venture out and explore; it will make it much simpler to select a property that is a wonderful match for you.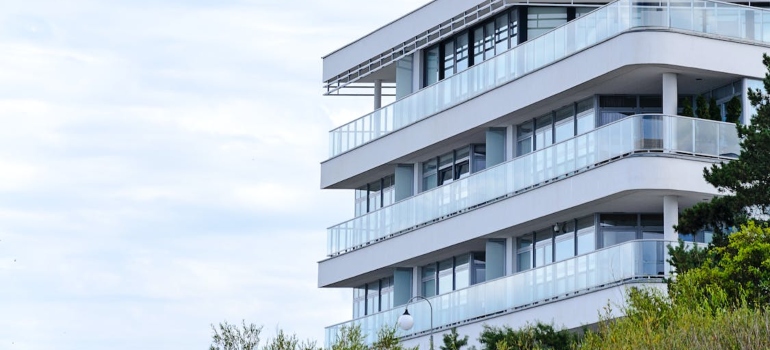 Combine the preferred location of your future apartment with the amenities you wish to have to make a perfect choice.Keep in mind that the prices vary depending on the part of LA you will be moving to. This also means that the cost of living will differ. So,
try finding a good balance between the location you prefer and the price of such a home
. Or the rent, depending on your needs. You might want to
locate movers in Downtown Los Angeles
if you decide that this area is the one that fits your budget and your needs.
The amenities you want your apartment to have
What are the features you wish your future home to have? This is the question to ask yourself before hiring
residential movers Los Angeles
and their services. The number of rooms and a parking spot is a good start. If you don't drive a car, then consider the availability of public transport. Consider the size of the living space. This is especially important if you have a family.
The facilities you have a habit of visiting should be nearby
as well. Out of so many residential areas in LA, there will definitely be one that suits you. It is all about a thorough search. Another thing to keep in mind when you are looking for an apartment is the time of the year. This is where we get to our third tip for apartment hunting in LA.
The time of  the year for apartment hunting
When you are looking for a new home, always start early. As early as you can. You will find a more suitable option this way. In some places, like Los Angeles,
the rent may differ throughout the year
. This is because more people tend to move here in certain periods of the year. But, if you start looking for an apartment early, you will have more options to choose from. After this, all you have to do is to choose the most convenient one. And of course, if you decide to move here, book a move with
furniture movers in Los Angeles
so you have a reliable ally during your move. This advice also goes for booking a move with your movers.
The sooner you book a move the better
. You will get a better quote by doing this. Planning ahead can save you a lot of money.
Informing yourself
The part of apartment hunting that requires the most effort. Doing your research can help you save a lot of money.
Keep in mind all the possible costs
you will have when you move to the
City of Los Angeles
and what kind of lifestyle changes you will encounter. The more informed you are the better results you can expect. Don't forget that you can always contact your movers for more information on the traffic and so on.
Booking a move with the moving services
After you do the tricky, personal part of the apartment hunting in LA, this is where we come into play. The
movers are here to help you save time and effort
. Moving to a new home can be pretty challenging. This also goes for moving some of the more specific items you might possess. For example, over the past few years, a lot of people that moved to LA had to move pianos to their new homes. This might surprise you, but dealing with such tasks can be almost impossible without a proper approach. This is why we suggest hiring
piano movers Los Angeles
to help you deal with it. This goes for any moving service you might require. After apartment hunting in LA, choosing a home is your part of the job, and moving your belongings there is our part. Make sure to contact us if you need more information.